MassGenie.com Marketplace launched in mid-2017 is a unique online crowd shopping marketplace site, which combines the power of crowdsourcing and ecommerce.
The site now has over 1.3 million products and over 13,000 brands.
Over 675,000 users have visited the site since its launch.
MassGenie is based in Irvine, California, which is home to Orange County's thriving tech industry and University of California, Irvine.
Webinar Scheduled Date & Time: Wednesday, August 22, 2018 1:00 PM – 1:45 PM EST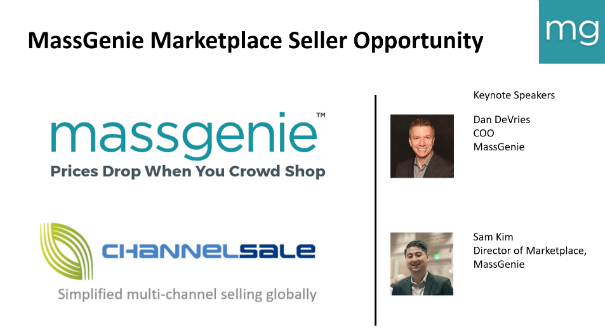 Here's what you can expect to know from the Webinar:
How MassGenie marketplace operates
Best suited sellers
Best practice methods for successful selling
How to activate selling on MassGenie via ChannelSale
Click Here To Register For Webinar
About
ChannelSale equips online Sellers with cutting edge powerful software solutions and expert services for creating and sync'ing product listings, inventory, orders across Amazon, eBay, Walmart, Google, Facebook, Jet and +200 more shopping sites globally via a single software interface. Making online Seller Success stories since 2007!